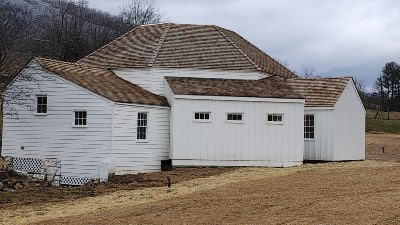 Bath County Virginia was named for the numerous fresh water springs that can be found throughout the area. While many of these springs are on private property, The Warm Springs Pools (formerly the Jefferson Pools) are open to the public. The Hot Springs Pool is located as part of the Spa at the Omni Homestead Resort.
Originally discovered by the Native Americans, the pools were considered a sacred place and those who would partake found themselves instantly rejuvenated. According to archaeological evidence, the pools have been used by humans for over 9,000 years.
The original octagonal stone basin was constructed in 1761. In the early 1820's, a covered structure was built with an oculus open to the sky. This structure was considered the "Great Bath" and was shared by men and women at alternating times, with a white flag flying overhead during use by women.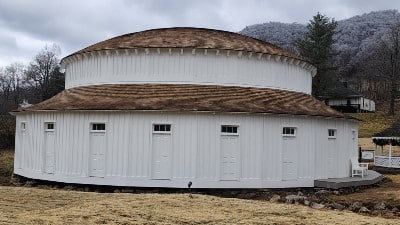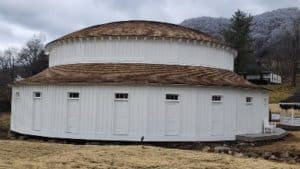 Around the mid 1800's, the Ladies Bath was built over a separate warm spring pool next to the Great Bath. The current design dates back to the mid 1870's. The Great Bath was later renamed the Gentlemen's Pool.
Thomas Jefferson visited the Pools in August of 1818 to partake of the natural healing qualities of the water. For many years, visitors to the pools were required to be under a physician's care and would come for a 3 week "cure".
The Warm Springs pools are unique – they maintain a constant flow and temperature year-round, no matter the changing of the seasons. The Warm Springs have a temperature of 96 degrees Fahrenheit or normal body temperature and a flow of approximately 1,700,000 gallons of water per day.
The Pools recently underwent a $4 million renovation by Omni Homestead Resort and re-opened to the public as of December 17, 2022. The facilities are stunning and the staff is warm and welcoming.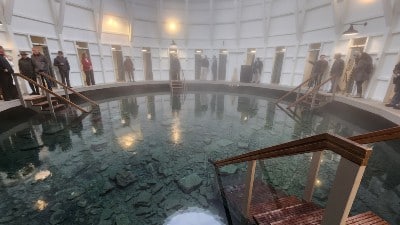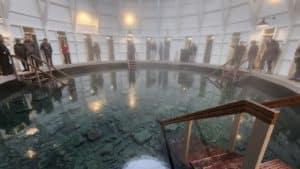 A 50-minute soak in the pools will cost $25 and will be open Wednesday through Sunday from 10 am – 6 pm.  Family time will be from 10 am to 1 pm, adult co-ed soaking time (ages 16 and up) will be from 1 – 3 pm, and gender specific (18 and up) in appropriate pools will be from 3-6 pm daily.  Reservations are required and can be made by calling 540-839-3860 or by email at warmspringspools@omnihotels.com.
Since 1905, Vine Cottage Inn has been offering overnight accommodations for visitors looking to "take the waters" at the Warm Springs Pools  and Hot Springs.  Whether you are looking for just one night, or a 3-week "cure", Vine Cottage Inn can take care of all your needs!  Come visit soon to relax, unwind, and rejuvenate!